8 ✨ Extra ✨ CBD Tinctures That Work
It's happened, we've hit peak hype. Kim Kardashian just had her baby shower and it contained a lot of CBD #spontent. Weed plants were snapped, tincture bottles were brandished in front of the camera and there was a communal sound bath. While we could write a dissertation on that social media experience, for now, we're going to highlight some tinctures we love that will help you narrow down the ever expanding list of CBD products.

Last week we covered our favorite full spectrum tinctures, this week we're talking about our favorite brands that something a little extra. Whether it's an adaptogen or a concentrated cannabinoid these tinctures are never too far from our beauty shelves, medicine cabinets and night stands.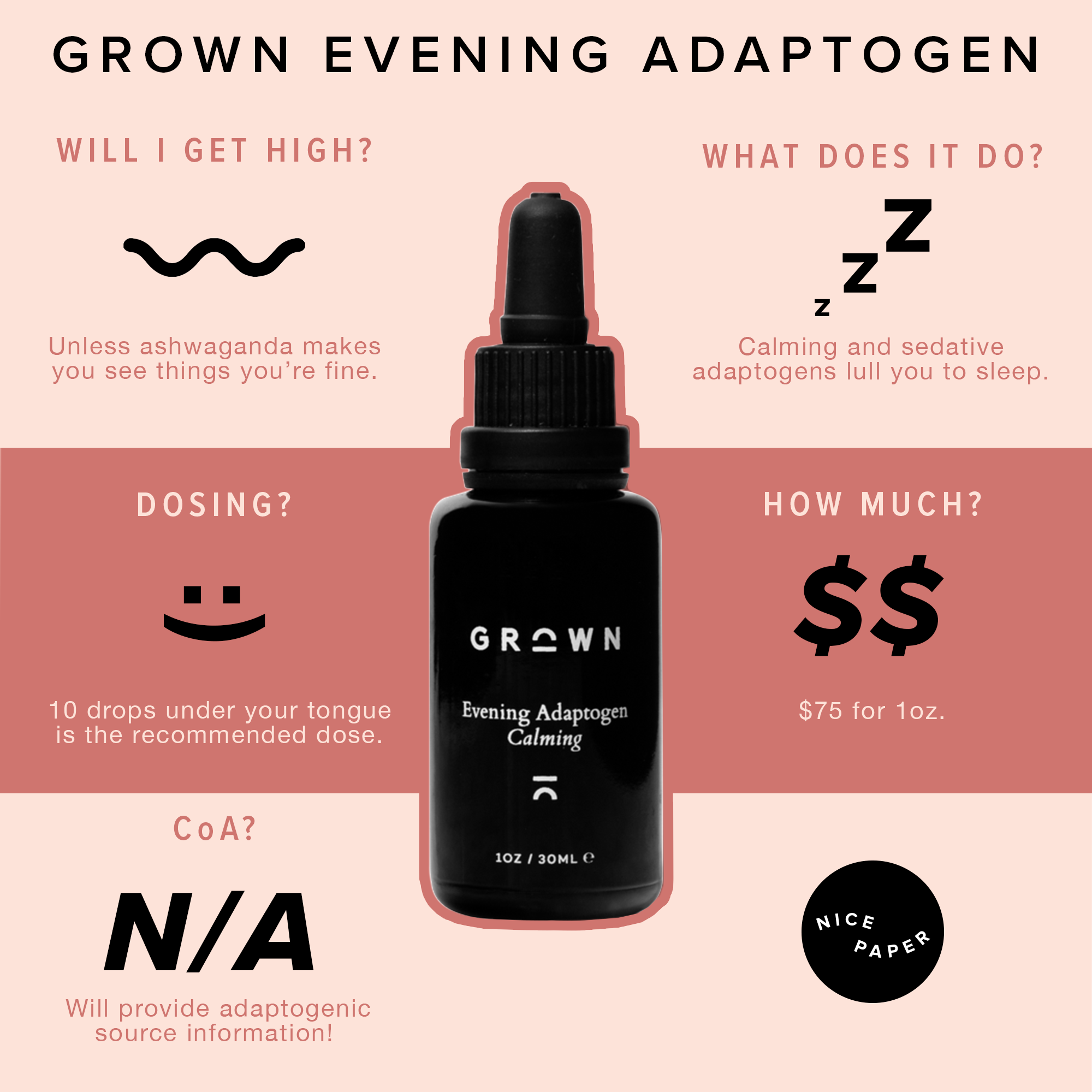 It might seem strange to start a CBD list with a tincture that doesn't contain any CBD but it is an incredible example of how plants beyond cannabis can be powerful. Their Evening Adaptogen has a mix of adaptogens including ashwaganda, brahmi, goji, lemon balm, oyster mushroom, passion flower and reishi mushroom. I once made the mistake of taking this during a particularly stressful day and found myself asleep and drooling on a communal workspace couch so only take to doze off at night or when you're ready to chill TF out.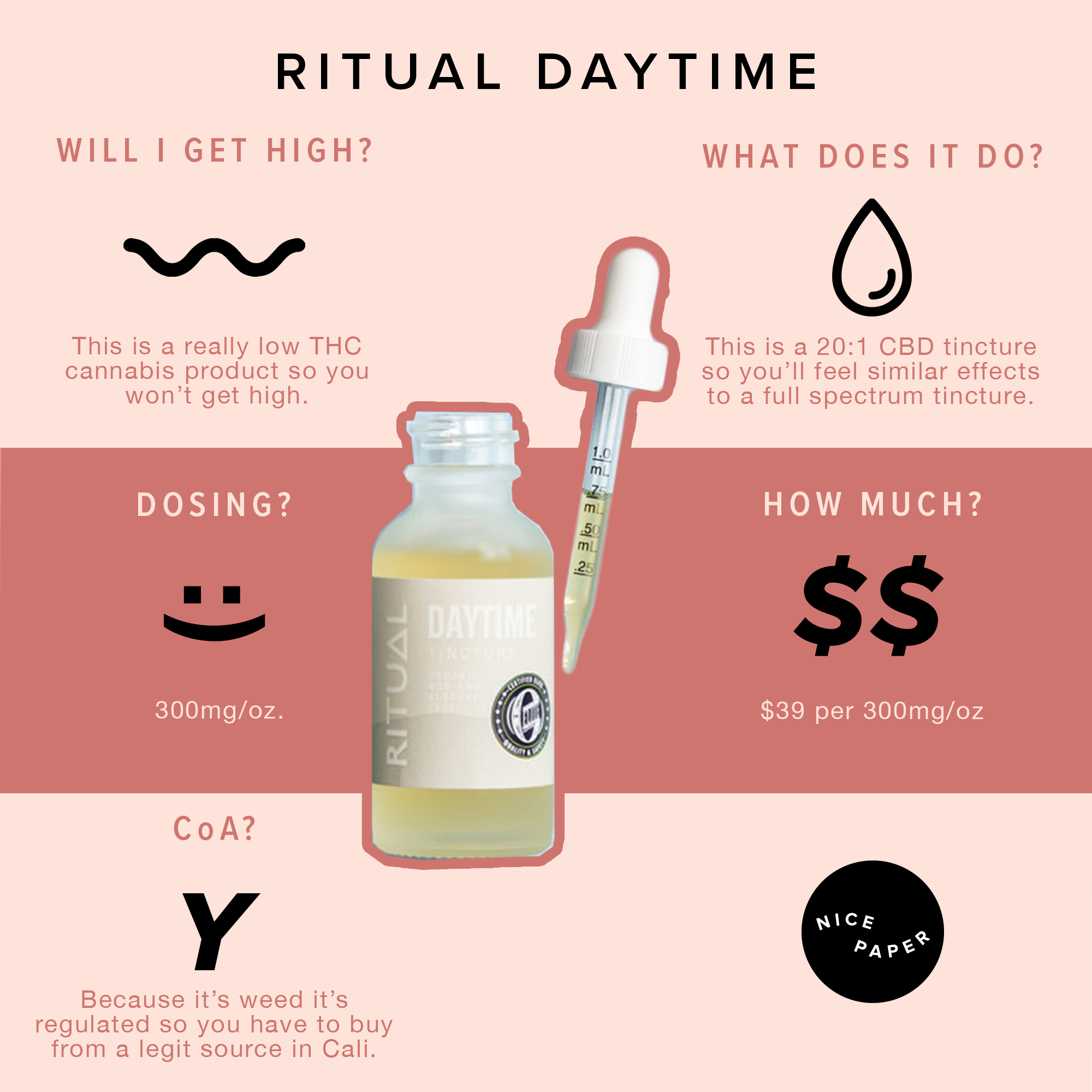 Daytime is a 20:1 CBD:THC blend designed to enhance mood, promote healthy brain function, and improve digestion without an overpowering buzz. Formulated with peppermint, lemon peel, sacha inchi nut oil and sunflower lecithin. This formula contains 286mg cannabis-derived CBD and 14mg THC, with a quick onset time.
Humboldt Apothecary Blues Away
This CBD tincture has a stronger THC dose and is blended with honey, St. John's Wort, lemon balm and Siberian ginseng. This is our go-to when we have our period as it's 3:1 formula really helps with PMS and numbs some of the pain from cramps. Available in California this tincture is available in most dispensaries across the state.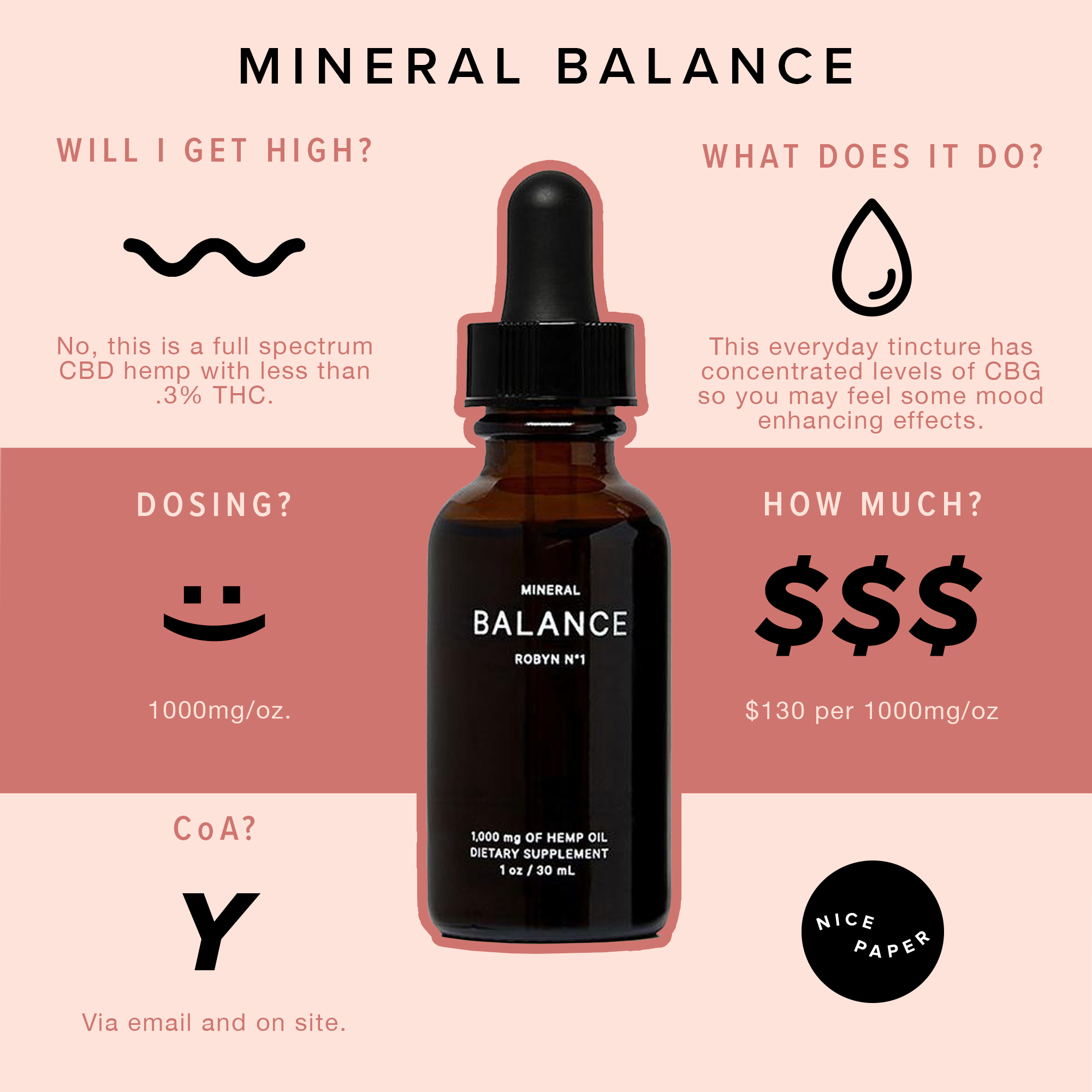 A cannabinoid-dense formula with concentrated amounts of CBD and CBG, BALANCE is elevated by terpenes known for improving mood and relieving stress. Recommended dosage is between 4-16mg.
Tonic's Chill formula includes organically grown and sourced broad spectrum hemp extract, organically sourced MCT oil and ashwagandha, lemon balm, and passion flower. Overall effect? Being very chill.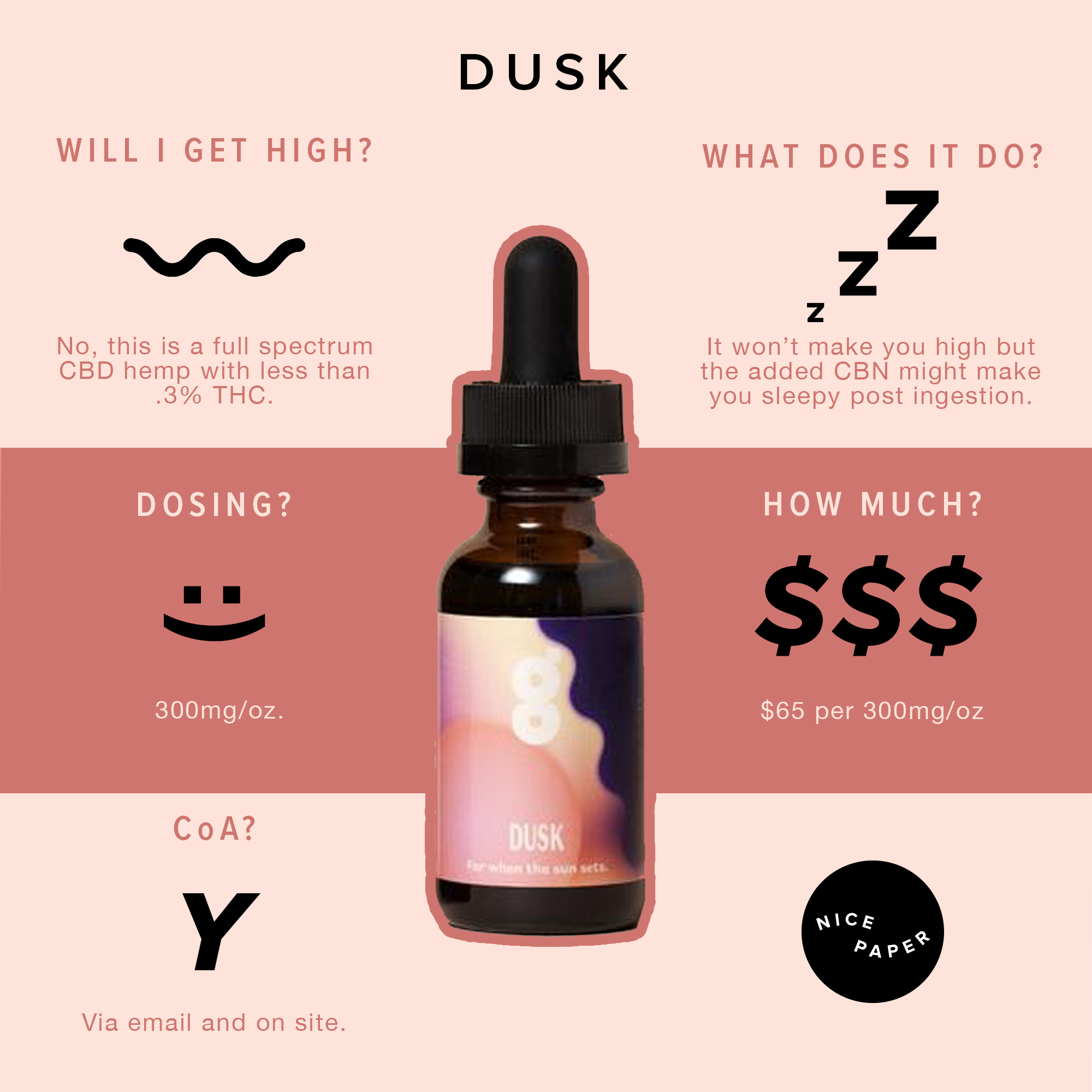 Dusk is a unique formulation of cannabinoids and terpenes engineered to help you rest. Sourced from the highest quality GMO- and pesticide-free hemp, each 1oz bottle contains 300mg of full spectrum CBD, high levels of CBN, and a calming terpene blend of Myrcene, B-Caryophyllene, Linalool and Citral.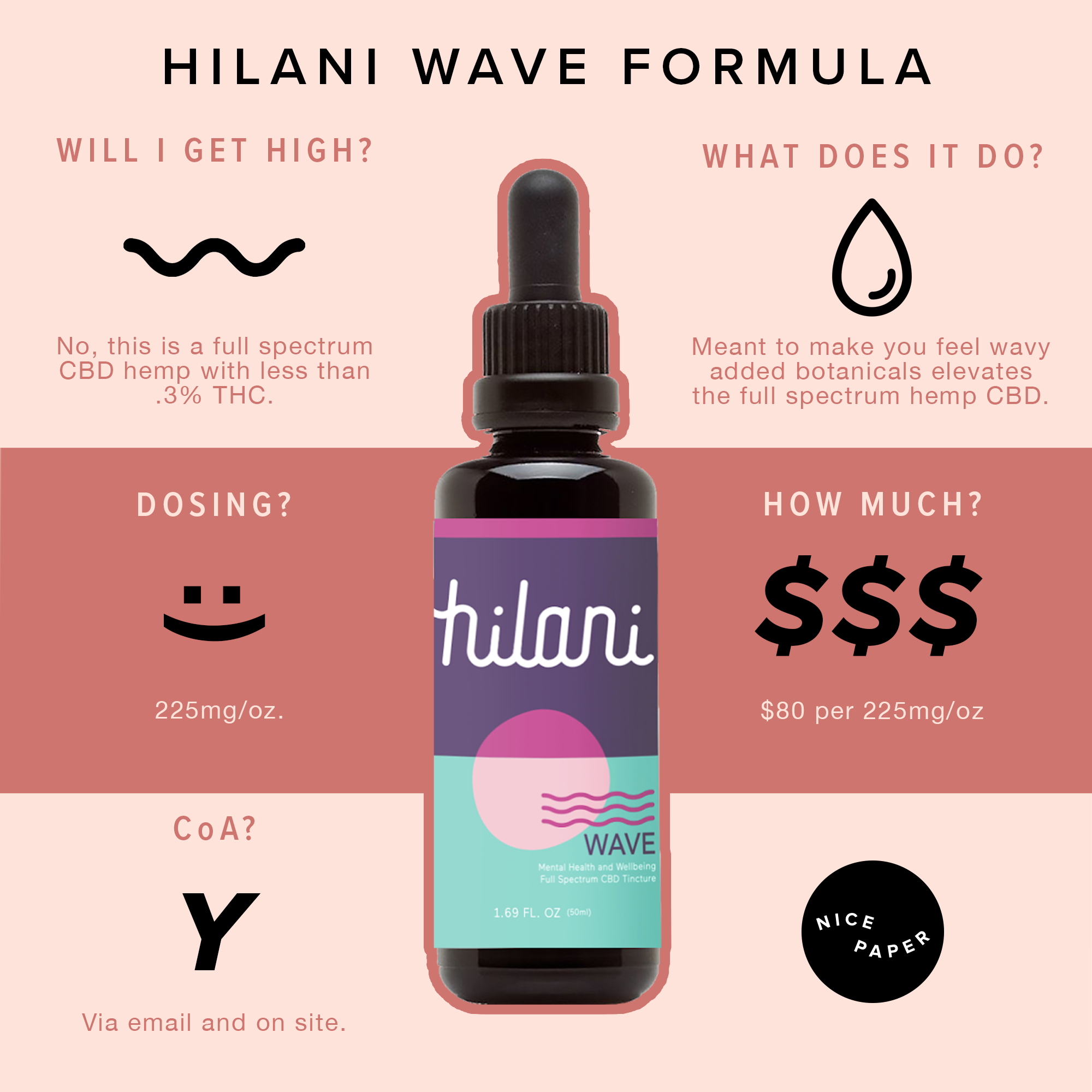 Wave includes 380mg of active CBD formulated with organic, consciously sourced botanicals and adaptogenic herbs. Suspended in biodynamic organic hydrosols made of California Poppy, rosemary, and rose geranium, this water-soluble formula is not your typical MCT-oil tincture.
Have a favorite product you didn't see? Talk to us.
〰 Nice Paper 〰